Molecular Gastronomy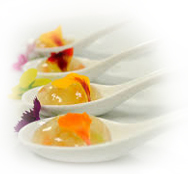 Molecular Gastronomy is a sub discipline of food science that seeks to investigate the physical and chemical transformations of ingredients that occur while cooking. Its programme includes three axes, as cooking was recognized to have three components, which are social, artistic and technical. Molecular cooking is one application of molecular gastronomy; it means cooking with modern tools. Molecular cuisine is a modern style of cooking, and takes advantage of many technical innovations from the scientific disciplines.
We at food culture specialized in molecular gastronomy through……




GELIFICATION:


Sculpt flavors into tasty pearls, ravioli or spaghettis

SPHERIFICATION:


Encapsulate flavors into bubbles that burst in your mouth.

EMULSIFICATION:


Create colorful foams that intensify aromas

SIPHON WHIPPING:


Add a creamy touch to your desserts, appetizers and side dishes.

SUSPENSION:


Defy gravity by giving flavors a suspended twist.

DEEP FREEZING:


Cook with the cold or create incomparably smooth ice cream.